For the Great Moments of the Present . . .
---
(2018 & 2019 updates coming soon)
We Salute and Congratulate the Champions
Crimson

for Winning the 39th Congressional Softball League Tournament in 2017.
Runners-Up team, Baltimore Oracles
Third Place team, One Hitters
Fourth Place team, Softball Against Humanity
Team League Rankings Used for 2017 Group Play
---
| | | |
| --- | --- | --- |
| | Hall of Fame | |
---
See photos and final brackets from previous years...
38 Years of Champions
(click above for a complete listing)
2006
Photos - Final Brackets

Resolutionaries
No Talent AZ Clowns
Alphabet Soup
Fallen Angels

2005
Photos - Final Brackets

Lawn Wranglers
Resolutionaries
Insliders
Wild Hawks
2004
Final Brackets
Potomac Fever
Denny's Grand Slams
Suspension of the Rules
Insliders
2003 (25th Anniversary)
Final Brackets
Resolutionaries
Revenue Raisers
Hambillies
Blue Pups
2002
Final Brackets
Denny's Grand Slams
Uncle John's Band
Yellow Journalists
Narcotics Committee Roaches

2001
Final Brackets

Suspension of the Rules
Yellow Journalists
Harry's Full Disclosure
Oldstar's/Clerk

2000
Final Brackets

Suspension of the Rules
Globetrotters
Securities Ax
Denny's Grand Slam

1999
Final Brackets

Suspension of the Rules
Yellow Journalists
World Bank Globetrotters
Courting Disaster
1998 (20th Anniversary)
Photos - Final Brackets

Syracuse University Orange Crushers
Crude & Unrefined
Yellow Journalists
Bullfeathers
1997
Photos - Final Brackets
Courting Disaster
Majority Wynners
Scissortailed Flycatchers
Tortilla Coast
---

---
From the Greats, with...

Memories of the Past
---
In Memory of the Commissioner's League Mascots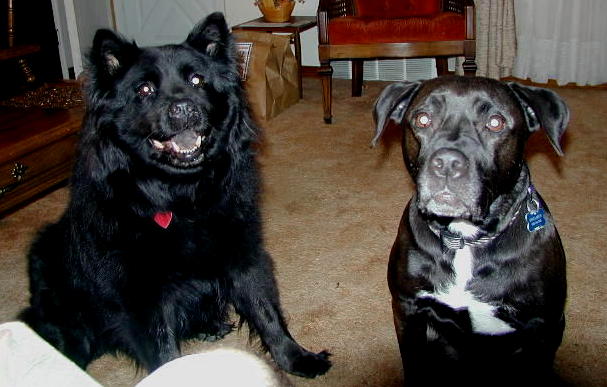 Miss Beavis
September 19, 1990 - November 5, 2003
Potamus
June 12, 1994 - June 30, 2004

Most Hall of Fame members autograph balls.
As a purveyor of fine leather, Potamus steals the newest softballs he can find...
and eats the leather covers!


For ten years, Potamus (left) ruled the tournament softball fields at Andrews and Bolling Air Force Bases, along with the Wakefield and Eakin fields in Fairfax County. Although Miss Beavis (right) was older, she only accompanied Potamus to the fields for five years. Together, they were a classic pair...who are sorely missed.


When he couldn't steal a softball, Potamus played with tennis balls,
kongs or toys he could steal from the small children
who accompanied their player parents to the fields.


Having worked up a thirst, even during the evening air at Andrews Air Force Base, Potamus pauses for a cool drink while Commissioner Caruso holds the fountain's button.
---
CSL Web last updated 08/04/19. For problems, suggestions or ideas for this web site, contact the Webmaster - Han Costa. For League issues, contact the Commissioner. All text, images and techniques ©1998-2020.